BRENT BEAT ENFIELD TO EARN ANOTHER TITLE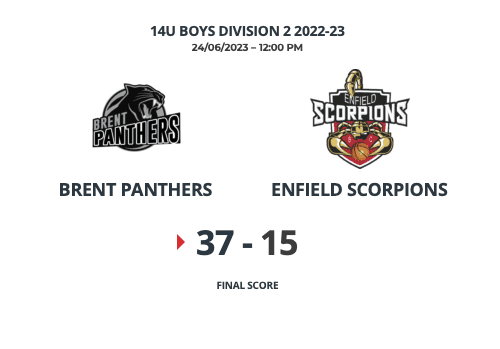 The final game of the 14U Division 2 season featured an intense matchup between the Brent Panthers and the Enfield Scorpions. With both teams showcasing exceptional skill and development throughout the season, the stage was set for a climatic championship showdown between these two strong London based clubs.
From the opening tip, the game flowed with the energy of London grassroots basketball. Enfield's Samuel Agyadong opened the scoring with a pull-up jump shot, putting the Panthers on alert. However, the Panthers quickly responded with a smooth turnaround jump shot by Justin Fagbenle, making it clear that they were ready to fight back.
Brent Panthers' guard Ruben Cryer, who has shown consistent improvement throughout the season, displayed his high basketball IQ and excellent ball distribution, effectively running the Panthers' offense. Their strong performance allowed the Panthers to take a commanding 17-8 lead heading into halftime.
However, it was the third quarter that proved to be the turning point of the game. Fagbenle and Cryer continued to shine, and Maxwell Brade unexpectedly contributed six consecutive points, leading the Panthers to an impressive 12-0 run. With a score of 29-8 entering the fourth quarter, the Panthers had established a significant advantage.
Undeterred, the resilient Enfield Scorpions, led by Hasan Ozcan and Samuel Agyadong, fought back in the final quarter, reducing the deficit by seven points. Nevertheless, Hamza Laisi-Oriekun, alongside Brade, dominated the inside game for the Panthers, enabling them to hold on for a convincing 37-15 victory and secure their first-ever CBL Championship.
After the game, Panthers Coach Swift expressed his appreciation for the competitive final and commended the Enfield Scorpions for their outstanding season. He acknowledged the talent and coaching prowess of the opposing team and highlighted the Panthers' continuous improvement throughout the year. Coach Swift emphasised that while winning their first championship was a source of pride, the Panthers remained focused on pursuing further success in the future.
The game's Co-MVP honors were awarded to Justin Fagbenle, who contributed 11 points, 5 rebounds, 3 steals, and 2 blocks, and Ruben Cryer, who showcased his skills with 10 points, 5 assists, 3 rebounds, and 2 steals.
Congratulations to the Brent Panthers on their well-deserved victory and for being crowned the 14U Division 2 Champions in the CBL! This win signifies their growth and potential for future success.
---