ENFIELD SCORPIONS EDGE OUT HACKNEY JEDIS IN 10U CBL PLAYOFF FINALS THRILLER
In a game that will be remembered for its intensity and dramatic finish, the Enfield Scorpions emerged as the champions of the first ever 10U CBL playoff finals, narrowly defeating the Hackney Jedis by a score of 59-58. The contest was an exciting display of skill, resilience, and determination from both teams, leaving spectators captivated until the very last second.
From the tip-off, it was clear that the Hackney Jedis and the Enfield Scorpions were evenly matched. The game unfolded as a back-and-forth affair, with momentum swinging between the two teams throughout the four quarters.
Joshua Amassah proved to be a pivotal player for the Enfield Scorpions, showcasing his scoring ability with a team-leading 19 points. His precision shooting, (including two big three-pointers), provided a significant boost to his team's offensive haul. On the other side, Micah Laird carried the Hackney Jedis on his shoulders in jaw-dropping fashion, pouring in an impressive 37 points in a valiant effort.
The game witnessed several momentum swings that added to the excitement. The Enfield Scorpions started strong, building a five-point lead by the end of the first quarter. However, the Hackney Jedis mounted a comeback in the second quarter, outscoring their opponents 20-7 and taking an eight-point lead into halftime.
In the third quarter, the Scorpions fought back, closing the gap with a solid defensive performance and smart offensive plays. The final quarter was a nail-biting affair, with both teams exchanging leads in the dying minutes.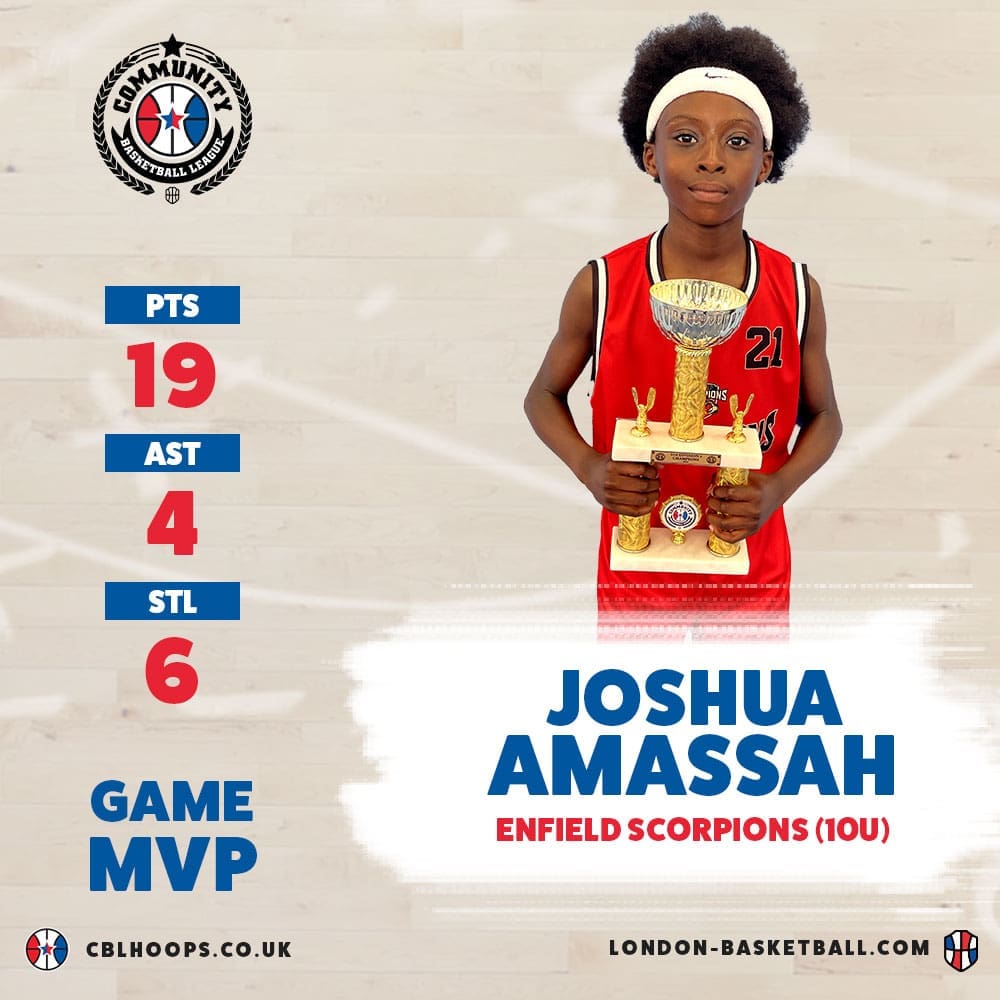 With less than a minute remaining, Joshua Amassah came through in the clutch for the Scorpions, with a put back lay-up with the 'and one' foul, which he converted from the line, to give his team a two-point advantage. Sky Elliot-Parris of the Jedis responded with a heroic three-pointer of his own, sending the entire gym into a frenzy, putting the Jedis back in the lead by a single point.
However, it was Giwa of the Scorpions who had the final say, converting a decisive layup within the last 25 seconds of the game. The Scorpions' resolute defense held firm in the closing seconds, securing their hard-fought 59-58 victory.
Incredible game.
The 10U CBL playoff finals between the Hackney Jedis and the Enfield Scorpions was beyond all expectations and showcased the incredible talent and competitive spirit of these young athletes. As they continue their basketball journeys, their determination and skills are sure to leave a lasting impact on the sport and ALL players on the floor stood as testimony to the CBL mantra: Where Tomorrow's STARS Play Today. On behalf of both teams, the league congratulates the amazing play, coaching and clear development and eagerly anticipates watching their future games, knowing that many more nail-biters and unforgettable games between these two teams lie ahead.