LONDON AMAZONS MAKE HISTORY, CLAIM FIRST EVER 14U GIRLS PLAYOFF TITLE WITH GRITTY 35-31 VICTORY OVER A4U ALL-STARS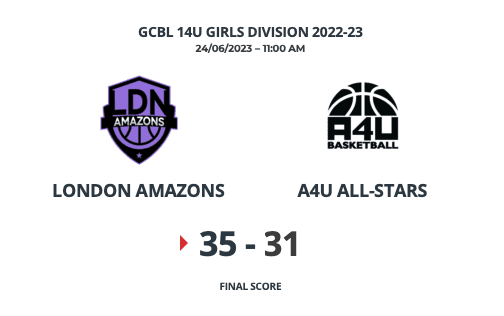 In a 'winner takes all' battle for season championship honours, the London Amazons emerged as worthy winners over the talented and resilient A4U All-Stars in the 14U Girls playoff finals, sealing a historic win with a final score of 35-31. This highly-anticipated showdown showcased the very best of grassroots girls basketball in London, as the top two teams in the division clashed for ultimate GCBL supremacy.
Both teams entered the finals well-prepared, featuring players already ear-marked for big things on the national stage in the near-future, making it a fitting finale to a season that will be remembered for the the first time we were all introduced to the names we'll remember in the women's game for years to come. The game lived up to all expectations, with both sides displaying passion, commitment and a will to win deserving of championship reward.
However, there could be only one…
That one, early, looked to be South London's A4U All-Stars, led by the irrepressible Sapphire Rose Adisa. A naturally gifted athlete who has speed, length, agility and graceful mobility in abundance, Adisa was a force to be reckoned with, particularly on the defensive end, where she showcased her shot-blocking prowess by swatting away four shots in the first half alone. Her dominating defence undoubtedly kept her team slightly ahead, leading by a narrow two-point margin at halftime.
On the other side, Nyah Brown was the driving force for the London Amazons in the first half. A talented, level-headed guard who is able to grab the rebound of the defensive glass and initiate the break herself, driving full-court, with either hand and finishing at the basket to great effect, Brown plays with competitive tenacity. During a half of Amazon uncertainty, she single-handedly kept the North Londoners within striking distance with ten first half points alone.
A4U's Adele Retureau was equally impressive, showcasing improved ball-handling skills and an effective mid-range jump shot that to pace the All-Stars attack and continue to pose problems for the Amazons' defence they were unable to answer in the first half.
However, the Amazons have had a defensive advantage all season long in the athletic frame of 5'10" wing, De'elle Whyte. The long-limbed defensive stopper has been key to the Amazons success this season, anchoring the defence and disrupting opposing teams plans on the perimeter and in the paint, so it was fitting in this game that Amazon's 'Coach Swift' called upon her to slow down Retureau in the third quarter. The defensive shift by the Amazon's paid dividends as the A4U attack began to stall, logging just six points in the quarter. However, with the Amazons attack still not in sync, A4U were able to maintain their advantage, going into the final quarter up by six with their eyes now firmly on the prize.
Amazons needed something in a 'now or never' call to action from Coach Swift, which was answered by Narini 'Naz' Kuwana, an undeniable future star in the league. For those familiar with the league, Kuwana's talent has been precocious and prevalent for two seasons now, with scouts and coaches alike, all agreed she has the potential to be a national and possibly international impact player in the years ahead. Despite a relatively quiet game up until that point, the silky smooth guard reminded everyone of just how much she has in her 'bag' when it mattered most. Crossover dribble drives, finishing with impeccable floaters, step back jump shots and a long-range three, just for good measure, all contributed to a ten point fourth quarter haul that single-handedly brought the Amazons back into contention.
With the game tied at 31, Nyah Brown made a decisive break to the basket, converting a clutch layup to put the Amazons up by two points. Then, in a moment of that will go down in Amazon's history, Narini Kuwana sealed the deal with a jump shot, extending the lead to four points, leaving the South Londoners with an insurmountable deficit and gifting the Amazon's with their first ever championship.
In recognition of their exceptional performances, Nyah Brown and Narini Kuwana were named co-MVPs, a testament to their invaluable contributions in this title-clinching game. Though it was a total team effort as emphasised by the victorious Coach Swift:
"What a game! It looked like, for long stretches of the game, that it was going to be A4U's day. Credit to them for a well coached and well played game – they really came to play. The girls had to dig deep and find their Amazon's identity to win this one and it was all of them who did it. De'elle and Demi on defence sparked the start of our comeback and Nyah and Naz brought it home on offence, but Naila, Jess and Matilda had their moments too. Just as the season has been – it was a total team effort and I'm glad all of their hard work and commitment this season ultimately paid off".
For the Amazons, this victory marks a momentous occasion as they claim their first ever 14U Girls Playoff Title and first official 'chip' in their club's history. Originally started to create a positive place for girls local to North West London to play, develop and compete, the Amazons have grown over time to characterise the best of girls grassroots basketball in the CBL and were proudly congratulated by assistant coach on the day and original founding member, Dia Deepak, herself an Uber-talented guard who now plays in the National League Women's Division 1 League:
"We first started Amazons with me, Saf and Kachy years ago and over the years have built something special at Amazons, that is so much more than wins and losses. We are a family who support one another on and off the court and push each other to be the best version's of ourselves in all areas of our lives. To be a part of this win today with our young one's really embracing the challenge and playing the Amazon way, just feels incredible. I'm so proud of them and I know Saf and Kachy are too. What a way to finish the season!"