Thursday, 4th June 2020
NATIONAL GOVERNING BODY PRODUCE GUIDANCE ON WHEN COACHING & COMPETITIONS CAN RETURN IN A 'BOUNCE BACK' RESPONSE TO COVID-19 
Basketball has been rocked from top to bottom with the COVID-19 pandemic, which has forced a total suspension of all coaching, games and group activities within the sport over the past 4 months during the nationwide lockdown. The LSB, understandably, have not been immune to the suspension, postponing all camps and coaching activities until further notice.
As the weeks and months of basketball deprivation have built up, the collective urge to get back onto court in a safe and co-ordinated manner has been mounting throughout the sport.  Coaches and players all over the city have patiently been waiting for an indication from the national governing body as to when a return to basketball action may be possible.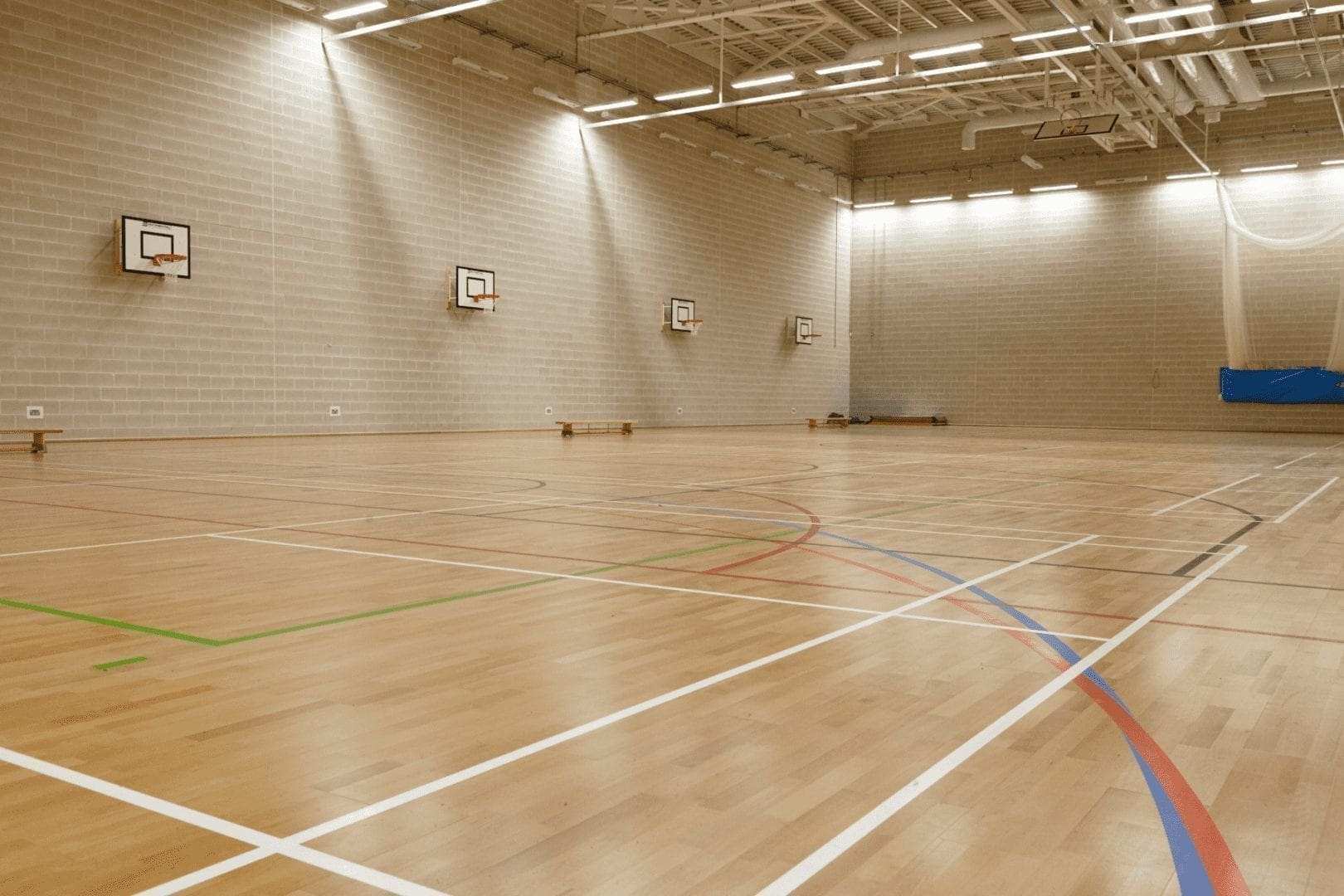 Courts across the country remain closed during the COVID-19 pandemic (Photo credit: SLS)
In response to the call for leadership from the governance to all basketball operators across the country, Basketball England have released a 'Return To Play Roadmap' to provide guidance and clear information to clubs, coaches, leagues and affiliated organisations.  The guidance has been compiled with key input from Chief Medical Officer, Dr Dane Vishnubla and in consultation with stakeholders from across the sports sector and the governing body of all sports, Sport England.
The roadmap features 6 levels of instructive guidance which align with the Government's social distancing rules and provide clubs and coaches with clear parameters to follow in implementing safe 'return to play' protocols. Built on 5 key principles, the 'Return To Play' guidance document prioritises the following features:
(1)  The health and safety of members (clubs, players, coaches etc)
(2)  The guidance is to be applied alongside additional rules provided by venue operators
(3)  The guidance aligns to Government rules and is flexible to allow for changes to the be applied quickly as they become possible
(4)  The guidance is based on clubs, organisations and individuals complying with the requirements
(5)  All clubs and league providers must have a COVID-19 Officer in place to liaise with Basketball England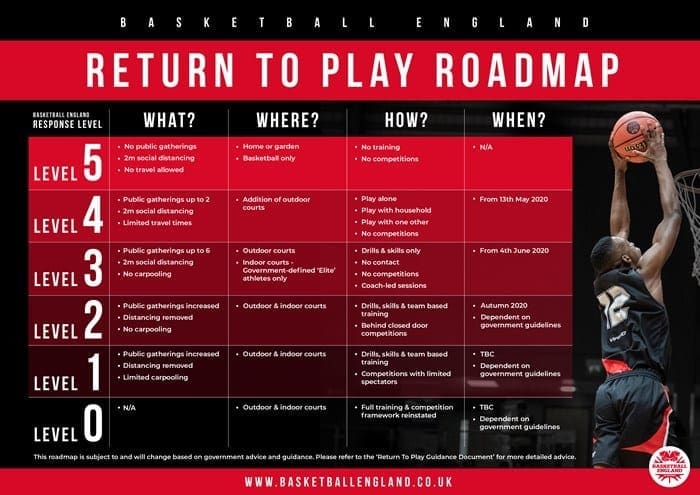 Basketball England Return To Play Roadmap (Photo credit: Basketball England)
As of time of writing, Basketball England advise that the sport is currently at Level 3, within the Return To Play Roadmap. Key features of the current protocols and what is allowed within Level 3 include:
Outdoor courts only
Maximum of 6 people per session (including any coaches)
Drills and skills work only
No contact
No competitions
Coach-led session
Until further notice, basketball is to stay at Level 3, which does not allow for the return to of LSB Camps in their previous format.  However, there are promising signs the sport may move to Level 2 in the weeks and months ahead.
LSB's CEO, Nhamo Shire, welcomed the guidance, though reminded everyone to be cautious with how and when they may return to basketball action:
"We welcome Basketball England's guidance notes as coaches and clubs across our network are itching to get back on court to play the game we all love and have so sorely missed.  Though we don't have the green light yet to fully resume sessions as we are accustomed to, this is clearly a big step in the right direction.  The notes are comprehensive and clear and provide the information so many have been searching for, so I'm pleased and fully supportive of the steps the NGB have taken to get our game back as soon as it is deemed safe to do so, implementing all measures that keep our players and coaches as safe as they can be in this new era of operating in a COVID-19 affected society.  We'll continue to work with the NGB and take guidance from both them and the health authorities as to when we can fully bring back our camps and coaching programs across the LSB". 
Join our LSB Camps waiting list to be amongst the first to be notified when our camps and coaching sessions have been given the green light to resume: LSB CAMPS WAITING LIST
For more comprehensive answers to a wide array of COVID-19 related basketball questions, please visit Basketball England's: RETURN TO PLAY - FAQ'S
For more information on the Corona Virus and recommended courses of action please visit: NHS COVID 19 ADVICE & GUIDANCE